AOMedia Members Spotlight AV1 Advancements at CES 2020
Las Vegas – Jan. 03, 2019 – The Alliance for Open Media (AOMedia) today announced that it is leading a notable round of demo activities focusing on the latest AOMedia Video Codec (AV1) video codec advances and real-world implementations at CES 2020, Jan. 7-10, 2020, at the Las Vegas Convention Center.
Backed by nearly 40 companies, including leaders in the internet, technology, and media industries. AOMedia's members will demonstrate where AV1 is improving online video compression and delivery today to:
Provide infrastructure and data egress cost savings for high volume streaming sites

Enable real-time video collaboration in bandwidth-constrained environments

Grow the addressable video market with higher quality video at the lowest bitrates
To see and hear about the most current AV1 advances and coming innovations directly from AOMedia and its members, view the AOMedia CES 2020 map and demo list below. To set up a press or analyst briefing with an AOMedia spokesperson, please email jhennion@virtualinc.com.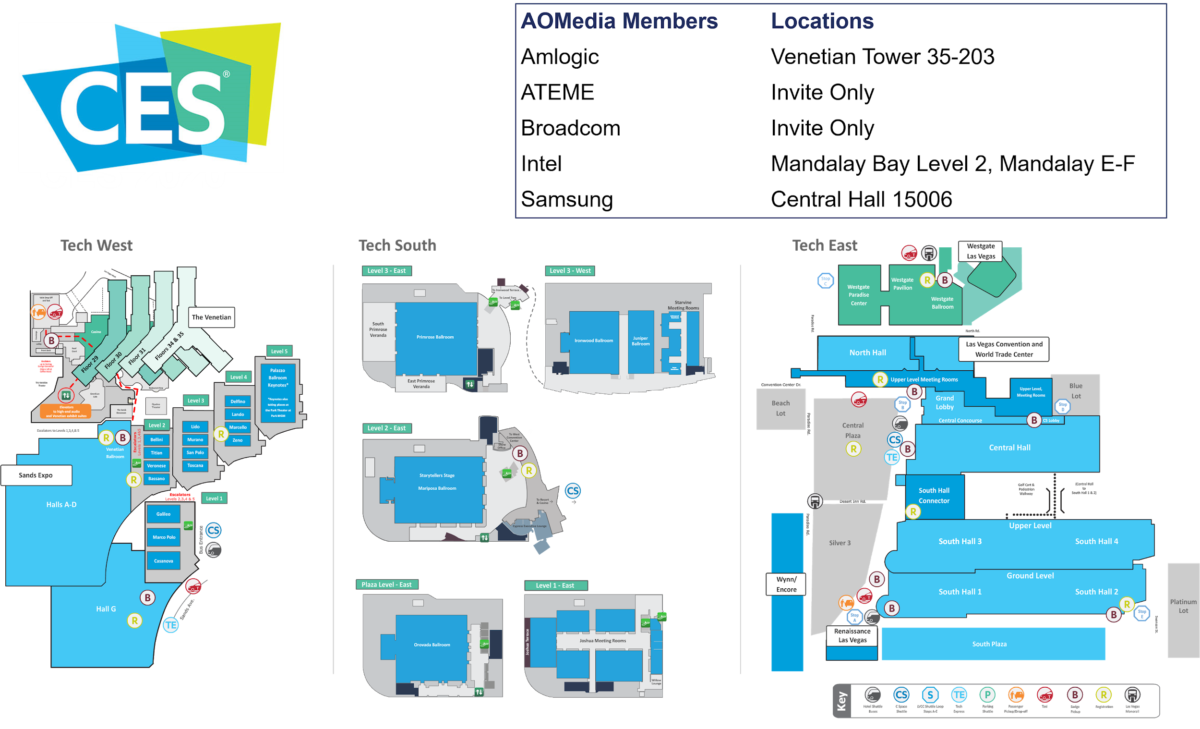 AOMEDIA AV1 CES 2020 DEMOS AND EVENTS
Location: Venetian Tower 35-203
Amlogic will discuss its 2020 AV1-enabled TV chips and STB chips with customers and partners.
Location: By invitation only

ATEME will be demonstrating its advanced AV1 transcoding with an in-house AV1 transcoder and showcasing new UHD HDR appealing video content at Broadcom's booth.
Location: By invitation only

Broadcom will be showcasing AV1 decoding on set-top box SoCs such as the BCM72180 including partner streams from YouTube and ATEME to demonstrate industry interoperability.
Location: Central Hall 15006

Samsung Visual Display will be demonstrating AV1 8K HDR10+ videos.
About the Alliance for Open Media
Launched in 2015, the Alliance for Open Media (AOMedia) was formed to define and develop media technologies to address marketplace demand for an open standard for video compression and delivery over the web. Board-level, Founding Members include Amazon, Apple, Arm, Cisco, Facebook, Google, Intel, Microsoft, Mozilla, Netflix, NVIDIA, Samsung Electronics and Tencent. AOMedia's next-generation royalty-free video codec, AV1, is optimized for internet delivery and scalable to any modern device at any bandwidth. Visit or follow AOMedia on Twitter at [@a4omedia].