AOMedia Members Spotlight AV1 at NAB 2019
Demos Spotlight AV1's Royalty-Free, Ultra High Definition (UHD) Web Video Capabilities
Las Vegas – April 3, 2019 – The Alliance for Open Media (AOMedia) today announced that it would lead a notable round of demo activities focusing on the AOMedia Video Codec (AV1) at the 2019 NAB Show, April 8-11, 2019, at the Las Vegas Convention Center. Attendees are also invited to register for AOMedia member Bitmovin's NAB Opening Party on Mon., April 8, 2019, 6:30 p.m. – 9:00 p.m. Pacific.
To see and hear about the most current AV1 advances and coming innovations directly from AOMedia and its members, view the AOMedia NAB2019 map and demo list below. To download AV1, visit the AOMedia website here.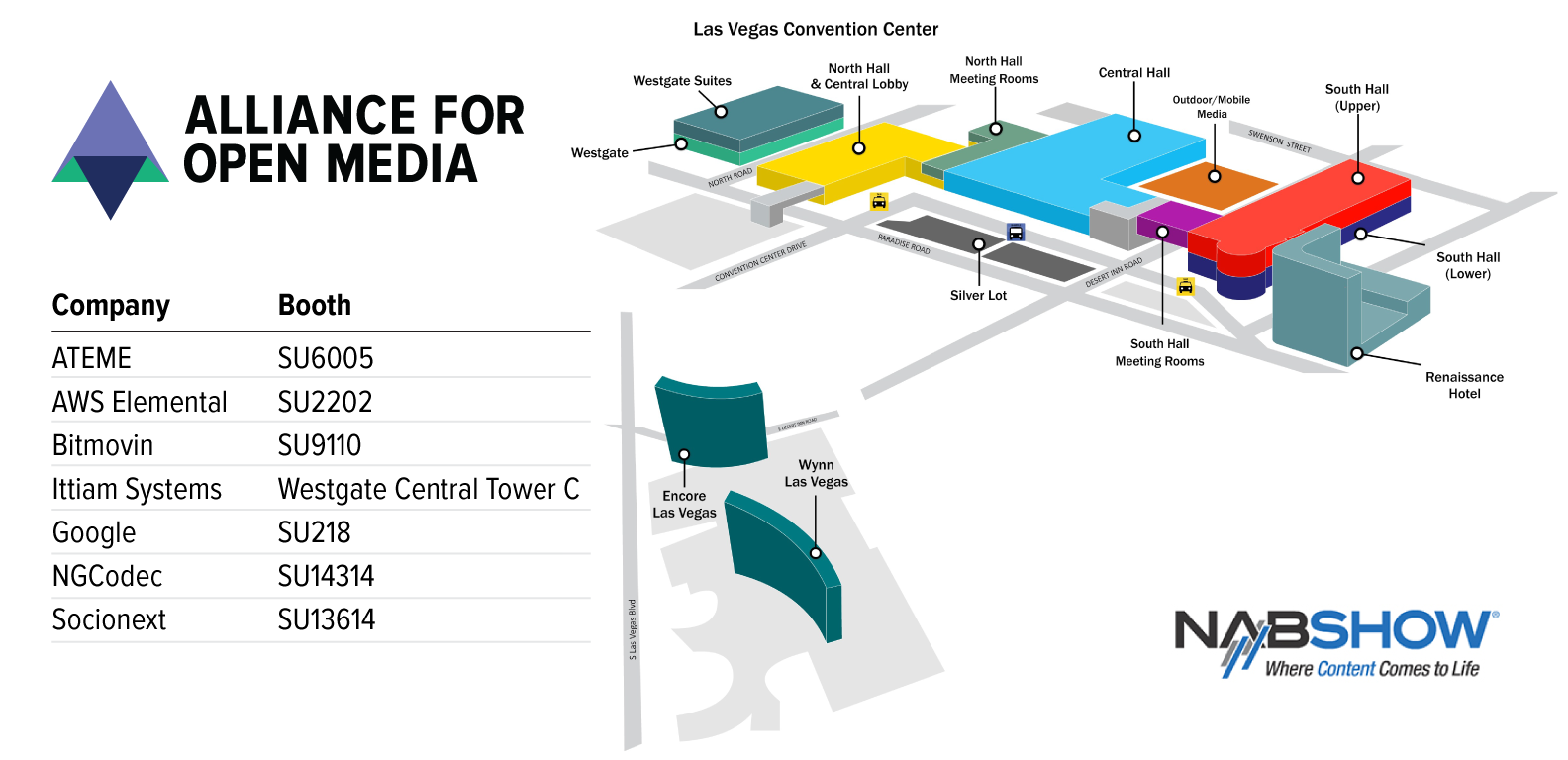 AOMedia AV1 Demos at NAB 2019
ATEME
https://www.ateme.com (Booth SU6005)
ATEME will showcase his AV1 encoder available today as a software update in its in-production TITAN solution. ATEME will also demonstrate video quality of UHD HDR AV1 video playback on a consumer device.
AWS Elemental, an Amazon Web Services company
https://www.elemental.com/about-us (Booth SU2202)
AWS Elemental will show AV1 sports content encoded in 720p60 format and 500 Kbps bitrate. This technology demonstration illustrates the capabilities of the next-generation AV1 codec to improve video quality and reduce storage and distribution costs for live and VOD applications.
Bitmovin
https://www.bitmovin.com (Booth SU9110)
AV1 Popup with Microsoft: Wed. April 10, 2019, at 2:30 p.m.: "AV1 Readiness on Microsoft Devices" Microsoft's John Simmons will present on open media standards, including AV1, and AV1 support by Microsoft.
Ittiam Systems
https://www.ittiam.com/ (Westgate Central Tower C)
Ittiam Systems will showcase its Content Adaptive Encoding (CAE) technology with a significantly faster version of the AV1 encoder.
Google
https://www.google.com (Booth SU218)
Google and NGCodec will showcase real-time 4K AV1 encoding using a Xilinx FPGA programmable hardware, as well as AV1 video playback in Chrome via YouTube.
NGCodec
https://ngcodec.com/nab (Booth SU14314)
NGCodec will show the world's highest-compression-efficiency live 4K AV1 encoder demo using Xilinx FPGA programmable hardware
Socionext
http://socionext.com (Booth SU13614)
Socionext will demo its cloud-based AV1 real-time encoder and will provide its upcoming production roadmap.
For more information about AOMedia at NAB or to schedule a media or analyst briefing, please contact Jessie Hennion, 781-876-6280, jhennion@virtualinc.com.
About the Alliance for Open Media
Launched in 2015, the Alliance for Open Media (AOMedia) was formed to define and develop media technologies to address marketplace demand for an open standard for video compression and delivery over the web. Board-level, Founding Members include Amazon, Apple, Arm, Cisco, Facebook, Google, IBM, Intel, Microsoft, Mozilla, Netflix, NVIDIA, and Samsung Electronics. AOMedia's open-source, royalty-free, video codec AV1 is a significant milestone in the ability to deliver a next-generation video format that is interoperable, open, optimized for internet delivery and scalable to any modern device at any bandwidth. Visit or follow AOMedia on Twitter at [@a4omedia].