AOMedia Research Symposium 2019
AOMedia kicked off its first Research Symposium on October 21-22, bringing together more than 100 attendees, representatives from member companies and researchers from leading universities. The packed, two-day program of stimulating presentations was held in sunny San Francisco.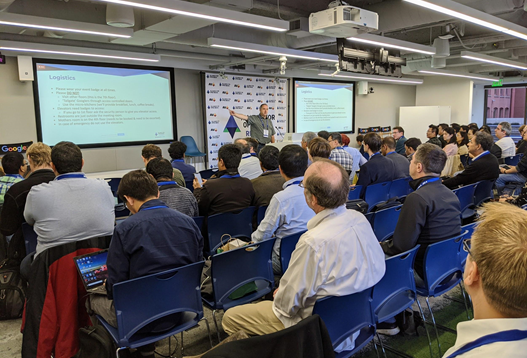 According to a Cisco study, with global internet traffic expected to rise three-fold between 2017-2022, of which 82% will be video, AOMedia is focused on developing new formats that set the standard for video compression performance.
Session Abstracts Symposium Agenda
Introduction & Opening Remarks (01)
Adrian Grange, Google
Prod AV1 at YouTube (02)
Steve Robertson, YouTube
AV1 in Facebook (03)
Jae Hoon Kim, Facebook
AV1 Encoding at Netflix (04)
Liwei Guo, Netflix
Adaptive Optimal Linear Estimators for Enhanced Motion Compensated Prediction (05)
Kenneth Rose, University of California, Santa Barbara
What Machines Can Learn from Humans About Lossy Compression (06)
Tsachy Weissman, Stanford University
A Switchable Region-Based Coding Tool for the AV1 Video Codec (07)
Maggie Zhu, Purdue University
Incorporating Physical Modeling into Deep Generative Networks for Image and Video Compression (08)
Aswin Sankaranarayanan, Carnegie-Mellon University
Coding Efficiency Evaluation of AV1 Coding Tools (no video)
Ryan Lei, Intel
An Overview of New Experimental Coding Tools (09)
Sarah Parker, Google
Evaluating Video Codecs Through Objective and Subjective Assessments (10)
Fan Zhang, Bristol University
Speeding up VP9 Intra Encoder with Hierarchical Deep Learning Based Partition Prediction (11)
Somdyuti Paul, University of Texas at Austin
AV1: Nits, Nitpicks and Shortcomings [Things we should fix for AV2] (12)
Nathan Egge, Mozilla
Learning-Based AV1 Optimization for VoD and RTC Use Cases (13)
Jinaa Liu, Visionular
AV1 Image File Format AVIF (14)
Cyril Concolato, Netflix
Applying Video Coding Tools to WebP Images (15)
Pascal Massimino, Google
Keynote: Opportunities to use Neural Media Compression, George Toderici, Google (16)
Deep Learning for Image Compression (17)
Yao Wang, New York University
Deep Neural Network Based Frame Reconstruction For Optimized Video Coding – An AV2 Approach (18)
Dandan Ding, Hangzhou Normal University
A Generalized Deep Perceptual Optimizer (19)
Yiannis Andreopoulos, iSize
Perceptually Optimizing Deep Image Compression (20)
Li-Heng, University of Texas at Austin
On Perceptual Coding: Quality, Content Features and Complexity (21)
Patrick Le Callet, University of Nantes
Mode-dependent Data-driven Transforms for AV1 (23)
Antonio Ortega, University of Southern California
Measuring Video Quality with VMAF: Why You Should Care (24)
Christos Bampis, Netflix
Motion Based Video Frame Interpolation (25)
Anil Kokaram, Trinity College Dublin
Real-Time AV1 with SVC support in WebRTC (26)
Alex Gouillard, CoSMo
AV1 in the MilliCast Real-Time (>200ms) Streaming Platform: The System Level Point of View (27)
Richard Blakely, Milicast
SVT-AV1 Encoder (28)
Nader Mahdi, Intel
High-efficiency AV1 Compression Using dAV1d and Eve (29)
Ronald Bultje, Two Orioles
Overview of FOMS Workshop and Open Issues (30)
Michael Dale, Ellation
Closing Panel Discussion (31)