AOMedia Members Intel, Meta, Netflix and NETINT to Highlight the Latest on AV1 Commercial Readiness at NAB 2023
Panel to Discuss How AV1 Commercial Adoption and Innovation Milestones Are Bringing Better Media Experiences to Customers and Their Devices
LAS VEGAS – April 5, 2023 – The Alliance for Open Media (AOMedia) today announced that it will lead the panel discussion, AOM Members Detail the Latest on AV1 Commercial Readiness, at the NAB Streaming Summit, held at the Las Vegas Convention Center. The session will take place on Monday, April 17 from 2:45 to 3:45 p.m. in the West Hall Meeting Rooms. For more information and to register for the panel, visit https://bit.ly/AOMNAB2023.
Using AV1, media producers and distributors are delivering higher quality video at the lowest bitrates, enabling consumers to expect the best from live and on-demand streaming media experiences. This panel will focus on how AV1 offers a generational improvement in coding efficiency over alternatives across the entire media ecosystem of hardware, software, devices, browsers and services.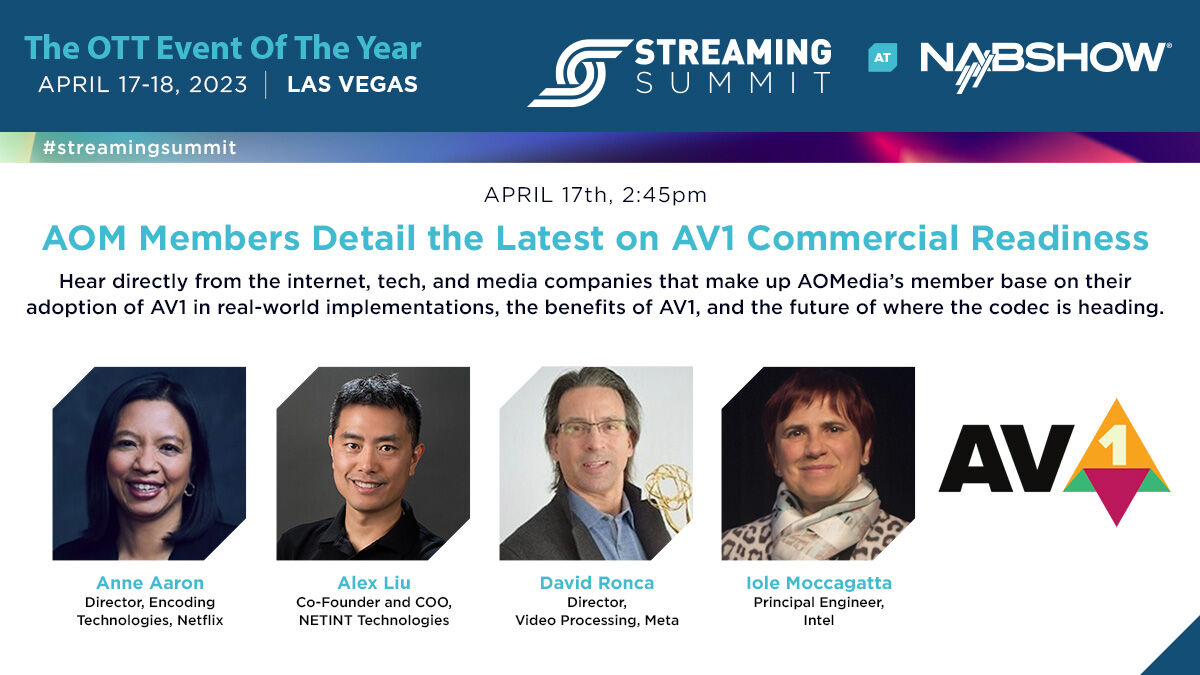 AOM NAB Streaming Summit 2023 Panel
Hear directly from the internet, tech, and media company representatives that make up AOMedia's member base on their adoption of AV1 in real-world implementations, the benefits of AV1, and the future of where the codec is heading. Panelists include:
About the Alliance for Open Media
Launched in 2015, the Alliance for Open Media (AOMedia) was formed to define and develop media technologies to address marketplace demand for an open standard for video compression and delivery over the web. Board-level, Founding Members include Amazon, Apple, Arm, Cisco, Facebook, Google, Intel, Microsoft, Mozilla, Netflix, NVIDIA, Samsung Electronics and Tencent. AOMedia's next-generation royalty-free video codec, AV1, is optimized for internet delivery and scalable to any modern device at any bandwidth. Visit or follow AOMedia on Twitter and LinkedIn.
Alexa Stewart
AOMedia Public Relations
Tel: +1 781.876.6242
Email: astewart@virtualinc.com